Join me this Saturday at Norfolk Botanical Gardens' Honey Bee Festival! I have been a member of the Beekeepers Guild of Southeast Virginia for the last five years and they partner with the Gardens to put on this stellar event. There will be an interactive honey extracting station; observation hives (live bees behind glass – can you spot the queen?); educational hives; local honey sales; and much more!
They've added even more kid-friendly fun this year! Come on out and join us for a fun-filled day about our favorite pollinator – the honey bee!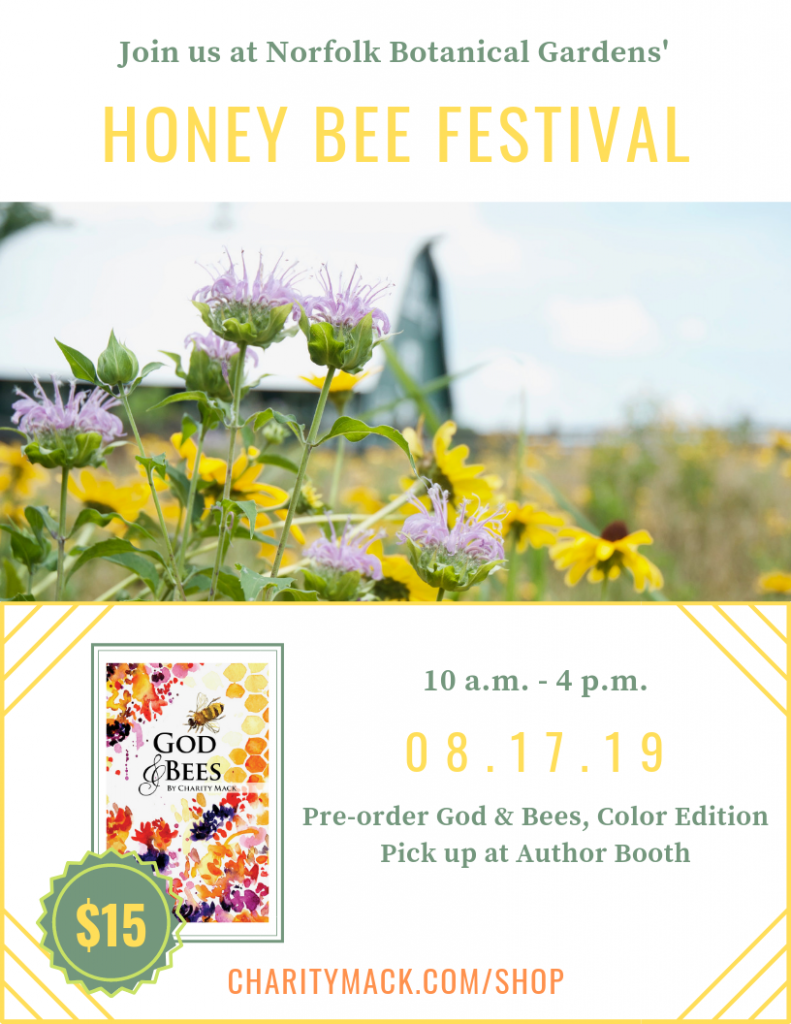 I will be at my first author booth in Baker Hall!
Pre-order your copy of God & Bees: Color Edition here, skip the line, and pick up at the booth. I'll even sign it for you!
Save with this Special Event Pricing for only $15!
God and Bees: Color Edition
Includes 25 color watercolor illustrations by yours truly.
(ISBN: 9781733124621)
It was a soft buzz, not sharp, and without warning, it stopped. Nine-year-old Lark opened her eyes. A honey bee had landed on her arm. The honey bee cleaned her fuzzy face with her tiny black arms, turned in a slow circle, and then took off toward the hive.
First-year beekeeper Lark Oakmyer has been given the rare invitation to join her old friend, W, at his bee yard with thousands of honey bees. But then, through a series of strange occurrences, Lark, her brothers, and their friends find themselves discovering clues to a bigger mystery than the bees. She soon learns that she has friends in high places and that the wonder of honey bees is more than she could have ever asked or imagined. Through their faith in God (and a bit of help from the bees), they make the impossible, possible.
See you there!

-Charity