Imagine driving past middle and high schools and they start to disappear. Taking every student inside with them. Young friends and family members just gone with no explanation, no trace of existence. The common thread is not race, religion, or gender, but rather it is their age. The average American middle school has 600 students, ages 10-13. The average American high school has 700 students, ages 14-18. Together they make up 40% of the United States student population and many are susceptible to being trafficked.
Human trafficking is luring another human into forced labor, most commonly for sexual slavery. Traffickers, men and women, take children, through the use of psychological manipulation, drugs, and even violence, to force them to have sex with adults for money. The average age of a trafficked victim in the United States is 13 years old and 100,000 children are trafficked nationally each year.
That is the equivalent of 168 American middle schools per year.
Why is this happening in the United States? Because of money. Because of desire. Because we are consumed in a culture of sex and there are risks. Some less dangerous than others and some, fueled by lust and self-gratification, our pursuits and habits can cause harm to others.
I wrote The Unseen in 2016 after studying what human trafficking is in the United States and worldwide. I found the statistics and reports paralyzing. Rarely did the reports empower me to know how to change things. It was difficult to talk about it with others and explain the complexity of it all. Knowing the power of storytelling, I felt that a novel needed to be written.
This book came from a passion to inspire more people to understand there is hope in ending human trafficking in our lifetime. The lives entangled by it are worth speaking for – they are The Unseen.
The book releases 1.11.20 in honor of National Human Trafficking Awareness Day. I hope you all will join in the fight by pre-ordering your copy, sharing what you learn, and empowering others to end this heinous crime.
I have provided a free youth curriculum, which subscribers can download here. There are also marketing materials on my website to help spread the word about both. Please help me in creating some buzz by reposting those materials. Knowledge is power. Now let's change our world for good.
-Charity
The Unseen

It is 1968. Margaret is working in the White House during the tumultuous Vietnam War while the country is still grieving the loss of President Kennedy. The morning after a White House party, she wakes up in a haze of confusing memories. A few weeks later, she realizes she's pregnant, and her world is shaken.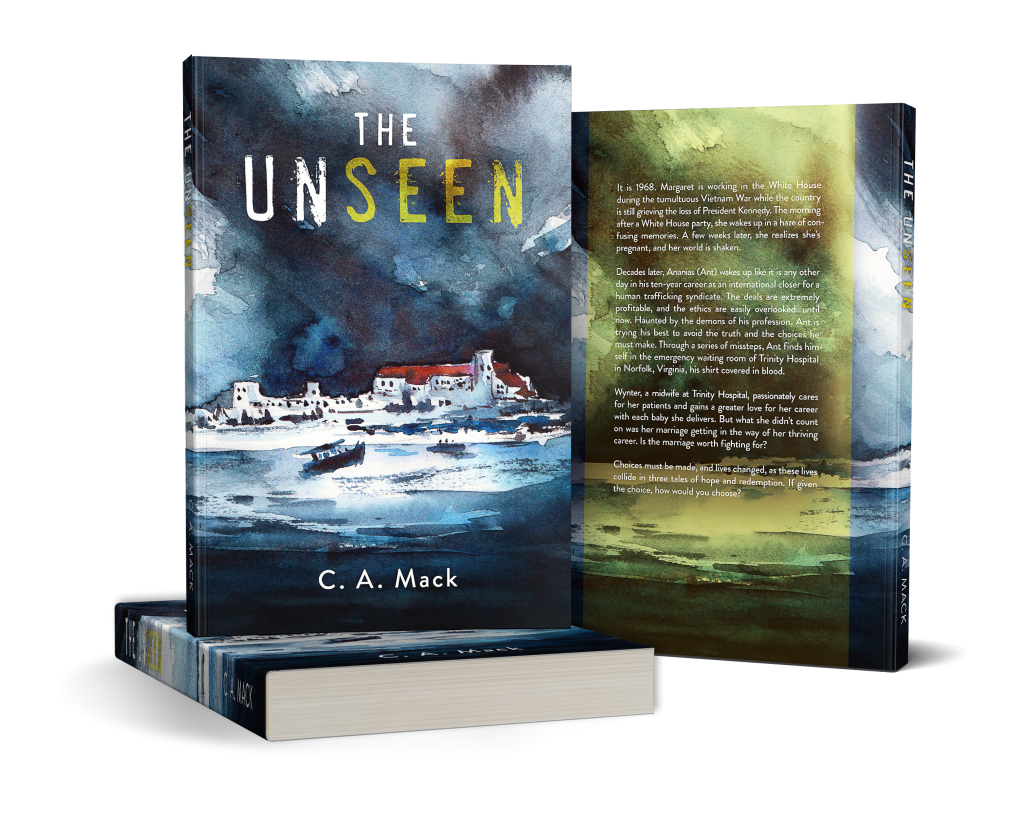 Decades later, Ananias (Ant) wakes up like it is any other day in his ten-year career as an international closer for a human trafficking syndicate. The deals are extremely profitable, and the ethics are easily overlooked…until now. Haunted by the demons of his profession, Ant is trying his best to avoid the truth and the choices he must make. Through a series of missteps, Ant finds himself in the emergency waiting room of Trinity Hospital in Norfolk, Virginia, his shirt covered in blood.
Wynter, a midwife at Trinity Hospital, passionately cares for her patients and gains a greater love for her career with each baby she delivers. But what she didn't count on was her marriage getting in the way of her thriving career. Is the marriage worth fighting for?
Choices must be made, and lives changed, as these lives collide in three tales of hope and redemption. If given the choice, how would you choose?